Rev. SudhaMehta©
From the time I was born again the desire to know this God who had rescued me was strong in my heart. I also had a desire to tell of Him.
Just three weeks after I understood how I literally had been born again, the neighborhood Avon Sales lady came to visit with a new catalog. It was the first time I met her. Before she left I had heard her story about how she had gone from being a Methodist, to a Catholic to being Mormon. Just a new-born babe myself, I spoke what little I knew from the heart. She clearly was in need, all her searching had brought her no peace. In fact she had been hospitalized a couple of times for mental health issues. A couple of days later she called to ask if I could visit her. I did, and she asked me to help her pray so she could be born again. I did.
Over the years I have heard wise Christians in the church dampen enthusiasm of young Christians by instructing them to get to know the Lord better before they share Christ with others. While I do believe that everyone must learn and mature in Christ, in fact I insist on it, it is not my belief that forbidding someone to share, or dampening their enthusiasm is the right thing to do.
It is my opinion that this enthusiasm is what God wants to see in us. Will we make mistakes? Undoubtedly! Yet it is the purity of joy that causes us to share and engages us to study and get to know Him better.
Exhibit #1: Myself . . . 43 years in Christ, 33 in Ministry.
Exhibit #2: My son when he was eight shared Christ with a little seven-year old friend. He shared with this little boy more than just the need for salvation. In the lesson he gave he included the Rapture, the Tribulation, and the Tasmanian devil coming. Okay, he messed up a little and confused the Antichrist with the Tasmanian devil from the Bugs Bunny cartoon. But, think about it, the Antichrist will be at least as bad as the Tasmanian devil, don't you think? Then he led him through a childlike salvation prayer.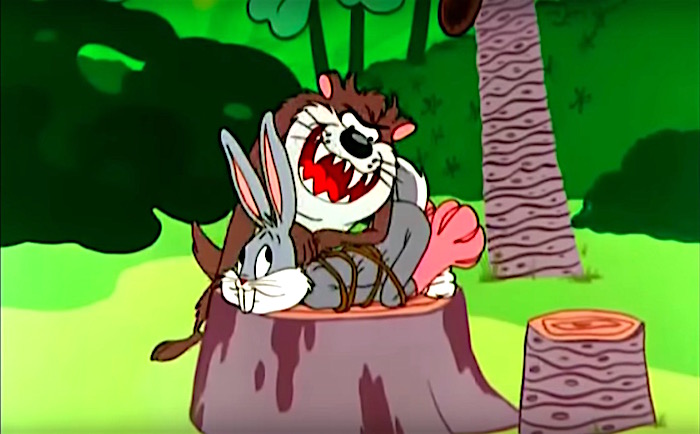 Photo: boingboing.net/2017/12/21
Exhibit #3: My daughter shared Christ with her friends not just in speaking, but in letters to her friends when she was just a little girl. When she was seven she received the baptism of the Holy Spirit on her own and announced it to me. Then she went to camp and led five other girls from her cabin in prayer to receive the same baptism which they all did. It was  quite an announcement when they all returned.
Exhibit #4: My little first-born grandson stopped me mid story-time to ask me if I knew Jesus. When I said yes, this little not-quite-three year old sat up straight and placing his hand on his heart asked, "But grammy, do you KNOW Jesus in your heart?" He himself had just prayed the salvation prayer the day before with his mommy. One day old in Christ and evangelizing!
My other two grandsons likewise have received Christ before they were each three and each of them shares openly. We have not stopped them from sharing, and they are all growing in Christ. they are learning the bible and growing in knowledge.
This is just in my family. Leading people to the Lord is the highest joy of any Christian. It should be.
Jesus said in Luke 15: 7 I say to you, that likewise joy shall be in heaven over one sinner that repents, more than over ninety and nine just persons, which need no repentance.(MKJV)
Last I checked, I was a sinner, and needed Christ. How about you?
If there is joy in heaven over one person turning to God, should we hold anyone back from sharing the good news? Besides, you know the great commission was given to all of us! There was nothing in it about age, or experience, or training, or personality, or the "preacher's call," . . .  was there?!
Jesus simply says in Mark 16: 15 And he said to them, Go you into all the world, and preach the gospel to every creature. 16 He that believes and is baptized shall be saved; but he that believes not shall be damned. 17 And these signs shall follow them that believe; In my name shall they cast out devils; they shall speak with new tongues; 18 They shall take up serpents; and if they drink any deadly thing, it shall not hurt them; they shall lay hands on the sick, and they shall recover.(MKJV)
Yes it is true, these disciples had a three-year training at the Master's feet. It was their Master's degree in Theology, and better than any degree you would get at a Seminary. You did not see Jesus telling them not to let others spread the message as well.
Mark 9: 38 And John answered him, saying, Master, we saw one casting out devils in your name, and he follows not us: and we forbade him, because he follows not us. 39 But Jesus said, Forbid him not: for there is no man which shall do a miracle in my name, that can lightly speak evil of me. 40 For he that is not against us is on our part.(MKJV)
In this passage before the great commission was given Jesus asked them not to stop someone who was doing more than just sharing the news.
Finally in Matthew 28:  18 And Jesus came to them and spake unto them, saying, All authority hath been given unto me in heaven and on earth. 19 Go ye therefore, and make disciples of all the nations, baptizing them into the name of the Father and of the Son and of the Holy Spirit: 20 teaching them to observe all things whatsoever I commanded you: and lo, I am with you always, even unto the end of the world. (ASV)
So, if we all do what we should be doing, if all the world hears what we need to share, do we not hasten His return?!  It is good news after all!
Let's do it together . . . all of us!
Follow us on Facebook: https://www.facebook.com/search/top/?q=onewaystudies
also on: https://onewaystudies.com
YouTube: https://www.youtube.com/results?search_query=hiswaystudies