Rev. Sudha Mehta©
The picture is actually not of the most expensive house in the Country.  You can look it up on the web. It is in California in LA County.
I saw the video of it on the internet today. The price is $245,000,000.00.
The owner died recently without an apparent heir to cherish and care for it. Now the house is up for sale. They said it was a record price for LA County. This County boasts of other top priced houses in the Country. Nine figures is not that uncommon.
It reminded me of a day when a little girl visited our home with her mother. Her family lived in a small house. When she got out of the car, she stood in front of our home and gasped in wonder "Wow, it's a mansion!" she exclaimed.
I think I might stand in front of many homes and say that myself. Next to this palatial home in California, my house would look like a hut.
It is all relative, isn't it?
Sometimes I marvel at how much money some people have. Then I wonder about something bigger than that. None of them take any of their money or possessions with them . . .  not one single penny, silver, china, fancy dress, jewelry.
What was of this earth, stays here. The life of extreme luxury they lived doesn't cross over to the other side. You have heard it said, we are all on the same level ground at the foot of the cross . . . I find we are all at the same level in the coffin as well. You may choose cremation, a fancy coffin, a fancy burial spot, or something even fancier such as cryogenics if you have a ton of money; but in death, we remain at the same level.
What makes a difference is what happens on the other side of death. That difference is determined by what decision we make here on earth before we die.
Last I checked, the death rate was still 100%. Rich, poor, male, female, young, old, healthy or unhealthy, we all die. Not one of us escapes the inevitable. Some go early, some go late, but we all go.
So, death becomes merely a passage to another eternal dwelling. That is what excites me. I know that Death itself has lost it's victory. For the Born-again person, the adopted child of God, their is no fear.
1 Corinthians 15: 54b Death is swallowed up in victory. 55 O death, where is your sting? O grave, where is your victory? 
When my children were young I taught them how we live here makes a difference to the kind of dwelling we will have after death. They both knew Jesus, so, they understood even as children that when they die they will go to heaven to live in His presence.
John 14: 1 Let not your heart be troubled: you believe in God, believe also in me. 2 In my Father's house are many mansions: if it were not so, I would have told you. I go to prepare a place for you. 3 And if I go and prepare a place for you, I will come again, and receive you to myself; that where I am, there you may be also.
My children were mindful of this mansion on the other side of death, in heaven. When my son did something nice for someone in need, he asked, "Mom, did I send up a brick to heaven to add to my mansion by doing right?" Simplistic, but I said, "Yes you did! Bricks perhaps even of gold!"
Think of the story of the rich man and poor Lazarus in the Bible.
Luke 16: 19 There was a certain rich man, which was clothed in purple and fine linen, and fared sumptuously every day: 20 And there was a certain beggar named Lazarus, which was laid at his gate, full of sores, 21 And desiring to be fed with the crumbs which fell from the rich man's table: moreover the dogs came and licked his sores. 22 And it came to pass, that the beggar died, and was carried by the angels into Abraham's bosom: the rich man also died, and was buried; 23 And in hell he lift up his eyes, being in torments, and sees Abraham afar off, and Lazarus in his bosom. 24 And he cried and said, Father Abraham, have mercy on me, and send Lazarus, that he may dip the tip of his finger in water, and cool my tongue; for I am tormented in this flame. 25 But Abraham said, Son, remember that you in your lifetime received your good things, and likewise Lazarus evil things: but now he is comforted, and you are tormented. 26 And beside all this, between us and you there is a great gulf fixed: so that they which would pass from hence to you cannot; neither can they pass to us, that would come from there.
You should know this is NOT a parable. It is a true story the details of which Jesus would have been privy to. The  rich man lived well, perhaps like the man from the LA County mansion.
Photo by Pixabey
The poor man was a beggar filled with sores that the dogs licked.
Photo by Pixabey
In LA County the homeless abound. In recent weeks and months I have read several stories of homeless people struggling to survive. Lazarus could be anyone of them. The inequality was stark then as it is today. Yet both being equal in the passage of death, came out nonetheless on the other side in vastly different places. Lazarus found himself in Paradise in the arms of Abraham.
Photo from YouTube.
The rich man who knew only the lap of luxury now found himself in a different lap . . . that of unbearable flames and agony in Sheol (AKA Hell). He longed for a drop of water, but there was none.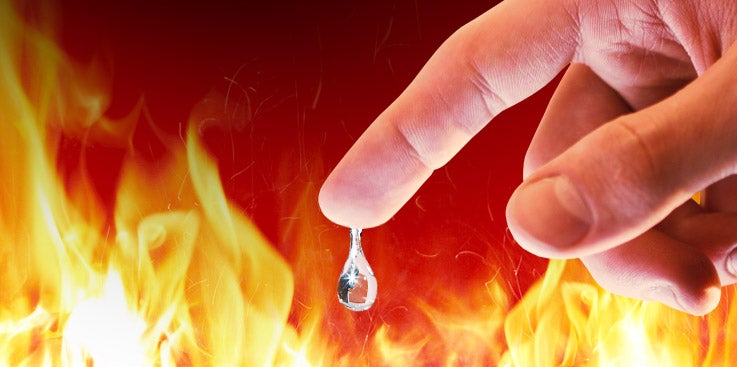 Photo from Amazing facts.
Here on earth the rich man amassed for himself riches only to take none with him, while Lazarus, without any comfort on earth, stayed faithful to God, and went to a generous reward.
This story that Jesus told, makes me posit the following questions: Where did the rich man who owned the estate in LA County go? Where did he wake up? Where is his bed now? Did he live a righteous life? Is he generously rewarded in heaven by our Lord Jesus, or is he facing a far less glamorous eternity than he envisioned?
I do not know the answers.
What I know is this: I must love all as Jesus loves and walk righteously according to His Word. My life must not be about being judgmental, intolerant, or "holier-than-thou"  . . . or anything like that. My life must be about love, God's love and His righteousness. It must be about caring as God cares, not just for my own eternity, but also for my family's and my neighbor's.
Some will say: "Mind your own business, it is my choice!" The choice has to be made by the individual, but if no choice is presented, the guilt (of not sharing) stays on me  . . . and you.
While I am on this topic. do you know where you will spend your eternity? Do your possessions own you, or have you given serious thought to where your heart is? Just remember, you take no earthly possession with you!
God waits to here your decision!!
Follow us, Like us and Subscribe: Facebook: https://www.facebook.com/OneWayStudies
https://www.youtube.com/results?search_query=hiswaystudies
Help spread the Word.