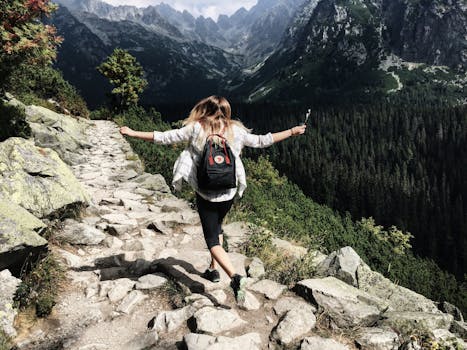 Sudha Mehta ©
Unseen Companion
Perhaps this will make you smile: I didn't know I became a Christian when I did.
You see, my neighbor who shared Christ with me did it in such a "benign" manner, at the moment I thought nothing of it. Turned out, even though she had been praying for me, she hoped our conversation was to be the first of many that would eventually lead to my accepting Christ at some point.
Little did she know, I was totally ripe for the picking.
I asked her a simple question, and she shared how simple it was to receive Christ, and how she herself had done so years earlier.
How was she to know that her words would have such an impact on my life. That very night, I asked Jesus to come in, take over my life and change and redeem it from the mess it was in.
I didn't know that made me a Christian. In fact, three weeks later, I was asked by someone if I was a Christian, and I said, "I don't know." You see I thought if I wanted to be a Christian, that would be some kind of a process, I would have to go to Church, follow some ritual of Baptism, be prayed over by some pastor, and perhaps more. So, I went to my neighbor and I told her what I had said in the privacy of my bedroom, and asked what that meant. She said "You are a born again Christian now." "Really??" I was taken by surprise. Now, I had no desire to walk it back, but it totally surprised me that it was quite as simple as that.
I had questions now. Many questions that I never would have thought of before. What I had done was make a totally uninformed decision the impact of which was just beginning to dawn on me, one question at a time. I had met the Savior, but I had no idea what that meant. Again, in a previous post I have shared I grew up in a "many roads, One God" philosophy, and I had tried many other faces of gods but none had worked. So, how was this One different? I prayed to the others, and nothing happened, I prayed to this One, and He entered my life, and made His residence in me?!
Some might be "freaked out" by this, me, I was intrigued by this "guest." I actually didn't want Him to be a guest at all!! No, I didn't want Him to leave, I wanted Him to stay forever. I was so hungry for Daddy Love, so thirsty for a cool drink of His spirit, I wanted to be totally His.
So, I took my questions to the Wednesday evening prayer meeting to my neighbor's house. I think it is safe to say no one else got to say much, neither did the teacher get to do the lesson. I think I was oblivious that night, and a few more to how I was behaving. Thankfully, no one else was offended, in fact they all welcomed my hunger and all my questions, that led to other questions were answered in much love.
I was provided a Bible. I started to devour it.
At home things were not good at all, and I learned fast that I would in fact be castigated for all my hunger for the Bible. So, I kept it to myself, although, I did share with my little three year old son the new Friend in my life. My little boy, the joy of my life, the one who gave me purpose to go on when I had no reason to continue, said his little salvation prayer on my knee, within just a few weeks of my own conversion, . . . and NEVER WALKED AWAY!!!!
Just a few weeks in, on a Wednesday morning, I happened to read
Acts 2: 1 And when the day of Pentecost was fully come, they were all with one accord in one place. 2 And suddenly there came a sound from heaven as of a rushing mighty wind, and it filled all the house where they were sitting. 3 And there appeared unto them cloven tongues like as of fire, and it sat upon each of them. 4 And they were all filled with the Holy Ghost, and began to speak with other tongues, as the Spirit gave them utterance. KJV
Well, being a total novice yet, but so very hungry, that afternoon I asked my neighbor about tongues. As it turned out, that evening in Bible Study, someone was to be prayed over to receive the baptism of the Holy Spirit. She asked me to come and learn. I did! And I asked to be prayed over as well. That is all it took.
Now mind you, the other lady spoke fluently in an unknown tongue right away, but I only received a few words. They said keep praying, and fluency came later for me, (will speak of this in a future post). Bottom line, 43 yrs later I am still a Holy Spirit Baptized woman who does speak in tongues. It was nothing dramatic, nothing frightening. In fact, I was a blank slate. I came not knowing anything really about Jesus, the true message of the Bible (the Catholic schools I attended as a child did not proselytize). I was simply at this point a seeker hungry for the knowledge, and a woman in love with her Lord.
Speaking in tongues became a huge factor in my life and communication with Jesus. So very many times when I felt in so much pain, there were no words to express the agony. My normal language failed me. in those times speaking in the heavenly language I laid my heart bare before God, and He comforted me.
Rom. 8: 26 In the same way, the Spirit helps us in our weakness. For we do not know how we ought to pray, but the Spirit Himself intercedes for us with groans too deep for words. 
I did not have a church, I just had neighbors who cared. This group of neighbors carried me through the roughest period in my life. They supported me in a way that demonstrated the love of Christ, and reeled me in. I was not an immoral woman in any way. I was stuck in as arranged marriage that sadly ended up being closer to hell than to heaven. Thanks to them, Pastor Irish, who was their pastor. took an interest in my life and I consider him to be truly my first pastor. He reached out and helped me even when I was across the oceans in India.
I don't know where this message of mine is going to go in the world, I do know the Lord asked me to write this. Perhaps there is someone out there in another country who is also in a difficult situation like I had been. perhaps It is a situation where hope seems dim. Perhaps, you feel no one can reach you to deliver. Perhaps it is persecution, or prison, or oppression of some kind that leaves you bound in visible or invisible chains. Perhaps it is a prison of your own making. Man or woman, young or old, it can be anyone, anywhere. Traps and prisons, other-made or self made leave you feeling there is no way out.
I thought that way, and I was found by the Master Himself. Yet I am told in:
Romans 8:15 For you did not receive a spirit of slavery that returns you to fear, but you received the Spirit of sonship, by whom we cry, "Abba! Father!"
No, I cannot tell you that my life became easier immediately. In fact, it took years for it to change for the better. I can tell you life became easier to tolerate. Now that I had an unseen Companion who couldn't be ousted from my heart or home, a Companion who was willing to do the life journey with me, to guide me, to comfort me, to love me and to encourage me, life became easier to bear.
Psalm 9: 9 The LORD is a refuge for the oppressed, a stronghold in times of trouble. 10 Those who know Your name will trust in You, for You, O LORD, have not abandoned those who seek You.
Over time I learnt strength, I learnt courage, I learnt love and became the woman He intended me to be.
You can too!!
Find us/Follow us/Like us/Sign up on Facebook/Twitter/Google/WordPress: